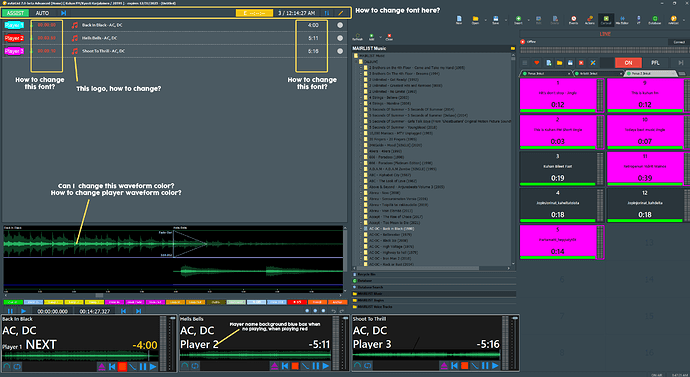 Dear Mairlist users,
I tried to change skini.ini file to make my Mairlist look more like my version.
First at all I have to say, that you will need "inspector gadget" mind to find answers. Someone who know this better could do one sample Skini.ini file and small explanation what he has done so it would be easier in future for new comers try to change it. Take this as suggestion, not complain.
Could some one explain to me what value I have to change if I want to change:
Time information on playlist (song remaining time and schedule time )
Font on Playlist toolbar on top?
Waveforms on Mixeditor and players, I would like get them blue…
How to change playlist icons for Music, Jingle, ads etc?
Someone Had changed player names to 1 - 2 - 3 and behind of player name had blue box with rounded corners. How to do that one?
Its fun to make my Mairlist to make more like "my version" with this skin.ini file. When I¨m done, I will share my final result and my ini file as example.
Kyosti