Hello Community,
we have released build 4385 (last snapshot), which is an improvement for all existing databases:
Snapshot - Build 4385
(...)
[*] DB: Added SQL index to speed up loading time for larger database with
    a long playback history
[+] DB: Added "Check Indices" maintenance function

Specifically, the reference to "a long playback history" = rotation server or centralized music databases shows that the loading time can be accelerated.
This is helpful for local databases, too.
This will be productive with version 6.3.7 at the latest (planned), but we recommend downloading and installing the snapshot now.
You can start maintenance in the configuration or control panel: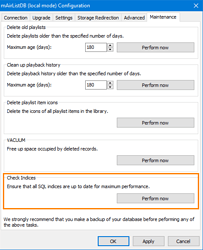 Depending on the database, this may take several minutes.


We recommend a backup of the database before starting maintenance.
We look forward to your feedback.
Good luck and have fun with the latest innovations in the program!